The Enamoured Soul: The Glory of Handel
Performance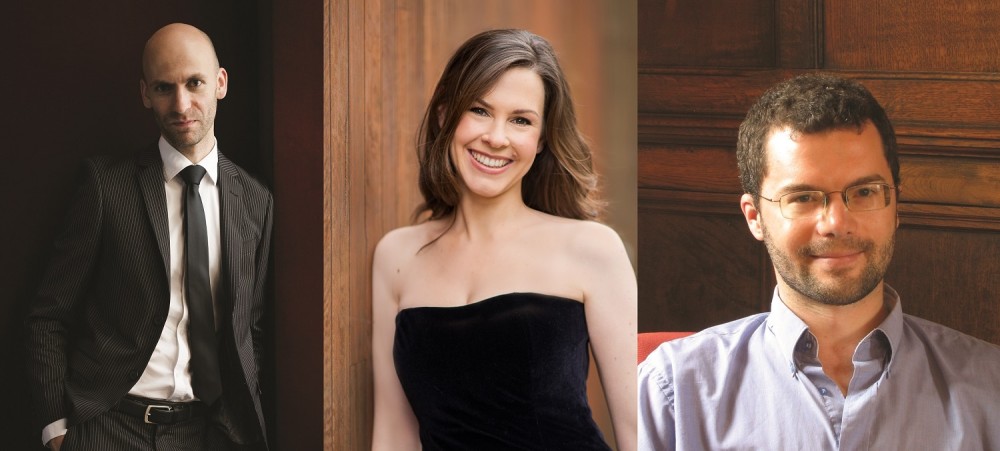 Melba Hall
Melba Hall
Royal Parade
Map
This fundraising event is proudly presented in support of the Melbourne International Festival of Lieder and Art Song (MIFLAS), hosted by the Melbourne Conservatorium of Music.
Join us as we celebrate the magnificence of Handel with some of Australia's finest exponents of the Handelian style. Complimentary bubbles and light snacks will be provided upon arrival.
Featuring:
Erin Helyard, harpsichord
Jacqueline Porter, soprano
David Irving, violin
Handel – unlike some of his German contemporaries, like Bach and Telemann – journeyed to the Italian peninsula in his formative years. There he cut his teeth on operatic production and also learnt how to write idiomatically for the voice. He made his first friendships with great singers and formed relationships that would last him for decades. The Italians adored the young German man – calling him 'il caro Sassone' (the dear Saxon). He was feted and applauded.
This concert features some of the greatest music of this extraordinary composer and features songs written in his native language of German but reflecting the best lyrical Italianate style, showcases his prowess at the harpsichord with a glittering chaconne, and concludes with an exquisite cantata in Italian: the 'enamoured soul'.
Presenters
Dr David Irving

,

Senior Lecturer in Music (Musicology Performance Practice)

Dr David Irving

Senior Lecturer in Music (Musicology Performance Practice)
Melbourne Conservatorium of Music

David Irving is a Senior Lecturer at the Melbourne Conservatorium of Music, the University of Melbourne. A passionate performer on baroque violin, he has worked with numerous early music groups in Australia and Europe, including the Australian Brandenburg Orchestra, the Gabrieli Consort & Players, The Hanover Band, and The Early Opera Company. His research focuses on the role of music in intercultural exchange, particularly in Southeast Asia, from 1500 to 1800. He plays a violin by John Simmers (Brisbane, 2000), after Jacob Stainer (Absam, 1659), and uses a bow by Hans Reiners (Berlin, 2005), after an anonymous English model (c.1720).

Jacqueline Porter

Jacqueline Porter holds an honours degree in Music Performance and a Bachelor of Arts (Italian) from the University of Melbourne and was the recipient of the 2010 Dame Nellie Melba Opera Trust Scholarship. She was a Developing Artist with Victorian Opera and has since performed many roles for the company. Equally at home on the operatic stage and the concert platform, Jacqueline appears regularly with Australia's major symphony orchestras and choral societies and her recitals and concerts are frequently broadcast on ABC Classic FM. Jacqueline's extensive concert repertoire features Bach Passions and Cantatas, Berlioz Les Nuits d'été, Britten Les Illuminations, Brahms Requiem, Grieg Peer Gynt, Haydn and Mozart Masses and Prokofiev The Ugly Duckling, which she performed with Vladimir Ashkenazy and the Sydney Symphony Orchestra and was also released on CD. Jacqueline's recent performances with the Melbourne Symphony Orchestra include Mozart Exsultate Jubliate, Beethoven Symphony No. 9, the role of Crobyle in Thaïs (MidSeason Opera Gala Concert), Fauré Requiem, Mahler Symphony No. 4 and Beethoven Mass in C. Other engagements with MSO include Rachmaninoff The Bells, Mozart Requiem, Enescu Vox Maris and a regional tour featuring Mozart and Haydn arias. Other concert appearances include the world premiere of Calvin Bowman's song cycle for Soprano and Strings: I Would Sing a Little While with the Melbourne Chamber Orchestra, first conducted by Benjamin Northey and then again with Sir Neville Marriner, Last Night of the Proms with Tasmanian Symphony Orchestra, A Night in Vienna and Mahler 4 with Adelaide Symphony Orchestra, King Arthur (Brisbane Baroque), Woodend Winter Arts Festival, Organs of the Ballarat Goldfields Festival, Dunkeld Festival of Music (Australian String Quartet and Caroline Almonte), Dark MOFO Festival (TSO), concerts with renaissance ensemble La Compañia, Royal Melbourne Philharmonic Choir and Orchestra, Melbourne Bach Choir, Opera in the Vineyard with David Hobson, a recital of Schumann Lieder for ABC radio and an Art Song recital with Aura Go in the Salon at the Melbourne Recital Centre. Her opera roles for Victorian Opera include Susanna (The Marriage of Figaro); Despina (Così fan tutte); Princess (The Sleeping Beauty); Drusilla (L'Incoronazione di Poppea); L'Amour (Orpheé et Eurydice); Saskia and Hendrickje Stoffels (Rembrandt's Wife); Clorinda (Il Combattimento di Tancredi e Clorinda). For State Opera South Australia she performed Gretel in Hansel and Gretel. She has also performed the role of L'Euridice in Peri's L'Euridice in the Woodend Winter Arts Festival and Cleopatra in Alexander Balus and Iphis in Jeptha 'The Vow' for Handel in the Theatre. Jacqueline's forthcoming engagements include Woodend Winter Arts Festival, Brahms Requiem (Festival of Voices), a Handel recital with Erin Heylard (Tasmanian Chamber Music Festival), Mozart Requiem (Melbourne Bach Choir), the title role in Susanna (Handel in the Theatre), and Beethoven Symphony No. 9 (Adelaide Symphony Orchestra).

Dr Erin Helyard

,

Senior Lecturer in Music (Musicology and Historical Performance)

Dr Erin Helyard

Senior Lecturer in Music (Musicology and Historical Performance)
Melbourne Conservatorium of Music

Erin Helyard has been acclaimed as an inspiring conductor, a virtuosic and expressive performer of the harpsichord and fortepiano, and a lucid scholar who is passionate about promoting discourse between musicology and performance. Erin graduated in harpsichord performance from the Sydney Conservatorium of Music with firstclass honours and the University Medal. He completed his Masters in fortepiano performance and a PhD in Musicology with Tom Beghin at the Schulich School of Music, McGill University, Montreal. He was named the Westfield Concert Scholar (Cornell University) on fortepiano for 20092010 and from 2003 to 2012 Erin was a central member of the awardwinning Ensemble Caprice (Montreal). Helyard is particularly active in reviving in both score and performance neglected seventeenth and eighteenthcentury opera. As Artistic Director and cofounder of the celebrated Pinchgut Opera and the Orchestra of the Antipodes (Sydney) he has forged new standards of excellence in historicallyinformed performance in Australia. He has conducted from the keyboard performances of Purcell's Fairy Queen (Montreal Baroque Festival), Cavalli'sL'Ormindo, Purcell's Dioclesian, Vivaldi's Griselda, Cavalli's Giasone, Salieri's The Chimney Sweep, Vivaldi's Bajazet, Grétry's L'amant jaloux, Handel's Theodora, Rameau's Pigmalion andAnacréon, Monteverdi's Coronation of Poppea (Pinchgut), Handel's Acis and Galatea (NZ Opera), Handel's Orlando (Hobart Baroque), Purcell's Dido and Aeneas, and Handel'sFaramondo and Agrippina (Brisbane Baroque). Both Faramondo and Agrippina won Best Opera at the Helpmann Awards in 2015 and 2016. In 2017 he won a Helpmann Award for Best Musical Direction for Handel's Saul at the Adelaide Festival in a fêted revival of a Glyndebourne production directed by Barrie Kosky. Helyard duets in nineteenthcentury repertoire on historical pianos with renowned Alkan exponent Stephanie McCallum and on fortepiano and harpsichord he has recently been described as "Australia's most engaging soloist" by Limelight magazine. Erin also appears as guest conductor and keyboard soloist with the Australian Haydn Ensemble, the Adelaide Symphony Orchestra, the Queensland Symphony Orchestra, and the Tasmanian Symphony Orchestra. In 2017 Helyard was awarded a major Australian Research Council Discovery Grant for a collaborative project with colleagues at the University of Sydney, Oxford University, and the Australian National University (Performing Transdisciplinarity: Image, Music, and Text in EighteenthCentury Print Culture). He is currently Senior Lecturer at the Melbourne Conservatorium of Music and appears by kind courtesy of that institution.