Art Song: In Conversation with Dr Graham Johnson and Stephen Varcoe
Seminar/Forum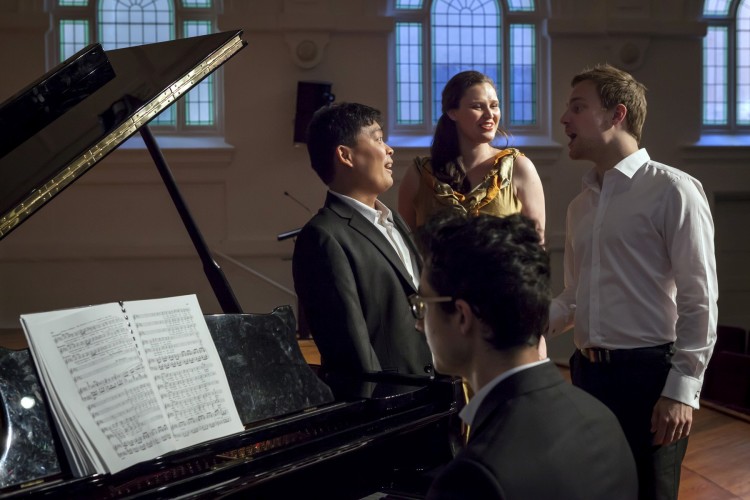 Melba Hall
Melba Hall
Royal Parade
Map
Dr Graham Johnson and Dr Stephen Varcoe are two of the greatest names in the history of art song performance on the international stage. This is your opportunity to find out more about the men behind the names. What drew them to this art form? What keeps their passion alive? And what do they believe is the future of art song, not just in Australia, but worldwide?
This event will launch the Melbourne International Festival of Lieder and Art Song in a relaxed and informal way, within the walls of Parkville's beautiful Melba Hall.
This event is presented as part of the Melbourne International Festival of Lieder and Art Song (MIFLAS), a masterclass and concert series for singers, pianists and audiences with a love of art song.
Presenters
Graham Johnson

Described as 'that peerless song accompanist' (Daily Telegraph, November 2015) Graham Johnson has performed with the world's leading recitalists, and has recorded extensively for Hyperion Records. He is Senior Professor of Accompaniment at the Guildhall School of Music and Drama. He was made an OBE in the 1994 Queen's Birthday Honours list, created Chevalier in the Ordre des Arts et Lettres by the French Government in 2002 and made an Honorary Member of the Royal Philharmonic Society in 2010. In 2013 he was awarded the Wigmore Hall Medal, and received Honorary Doctorates from both Durham University and the New England Conservatory of Music. He was awarded the Hugo Wolf Medal in 2014 for his services to the art of song, and his three volume Schubert: The Complete Songs was also published in that year.

Stephen Varcoe

Royal College of Music

Dr Stephen Varcoe is known around the world for his work in concerts and recordings. He has appeared with many leading orchestras in the UK, Europe, Japan and North America. Stephen is also known for his recitals of poetry and song in a wide range of themes and styles. Stephen's voice features on about 150 CDs of works by the Baroque masters; by Mozart, Haydn and Beethoven; by later British composers such as Gurney, Finzi, Britten, Osborne, Musgrave and Tavener; and on the Chandos complete works of Percy Grainger. With Graham Johnson and Hyperion Records he has recorded several recital discs by Hahn, Chabrier, Fauré and Schubert. He completed a PhD at the University of York in 2009, and he writes and lectures on various aspects of singing, especially English song. He teaches at the Royal College of Music.