Yours Internally
Exhibition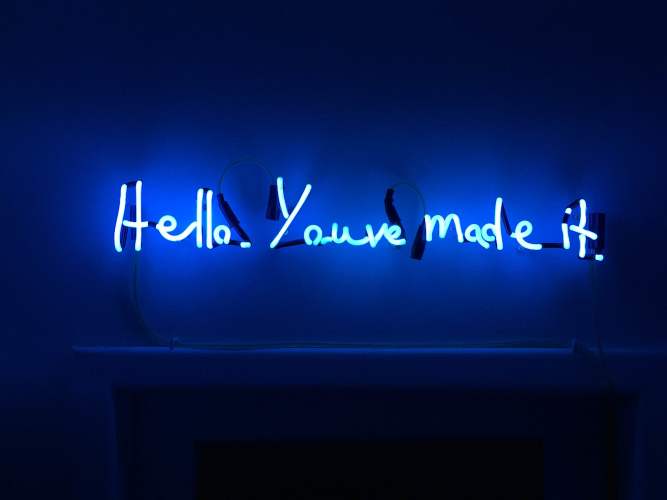 Margaret Lawrence Gallery
Margaret Lawrence Gallery

Map
Organic kale, yoga mats, adult colouring-in books, active wear – the lifestyle accessories of our time. New found peace or a reaction to something darker? Yours Internally combines neon works by Kiron Robinson and videos by Grant Stevens in an exploration of the internalised experiences of doubt, insecurity, anxiety and uncertainty.
Curator: Dr David Sequeira
Kiron Robinson courtesy Sarah Scout Presents, Melbourne
Grant Stevens courtesy Sullivan + Strumpf, Sydney
Margaret Lawrence Gallery Opening Hours 12.00 – 5.00pm, Tuesday – Saturday
Kiron Robinson, Hello You've made it, 2015 neon. Courtesy of Sarah Scout Present (Melbourne).
Presenters
Dr David Sequeira

University of Melbourne

Working in a range of media, David Sequeira explores the languages and information of colour and geometry. A selfconfessed hoarder, Sequeira collects books, vases and plastic plates which all find their way into his practice. Curatorship —making connections between objects, places and spaces —is an important aspect of his art practice. In 2015, he curated the highly acclaimed exhibition *My Learned Object: Collections & Curiosities* for the Ian Potter Museum of Art at the University of Melbourne. Containing over 2000 objects ranging from paintings to dead animals in formaldehyde. In 2016 David was appointed as Director of the Margaret Lawrence Gallery, VCA.

Grant Stevens,

Artist and Deputy Head of School (Art) at UNSW Art & Design.

Kiron Robinson

Artist
Sarah Scout Presents

Kiron Robinson is a lecturer in Photography at the Victorian College of the Arts. His work is featured in the exhibition Yours Internally currently on show at the Margaret Lawrence Gallery.