VCA Film and Television Graduate Study Information Evening
Future Student Event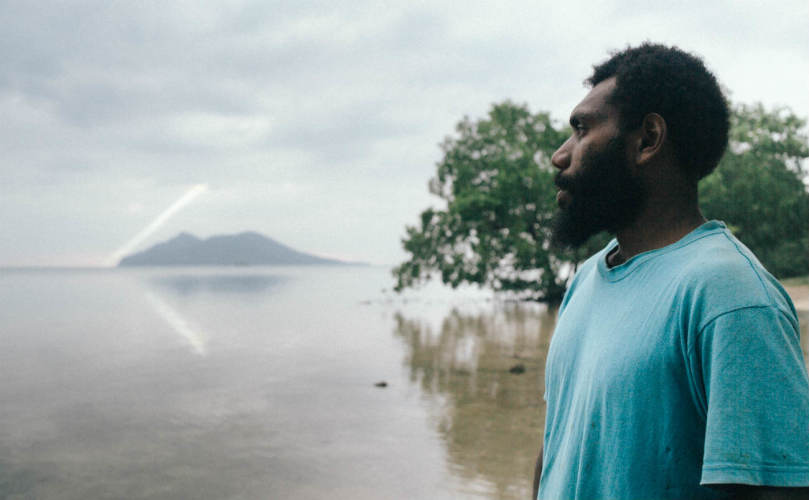 Federation Hall
Federation Hall
Grant Street
Map
What's your story?
At this event, learn about VCA graduate programs in Film and Television, across areas of narrative and documentary filmmaking, film producing and screenwriting.
Meet with course coordinators and VCA Film and Television staff and students to find out how our courses balance intensive, studio-based practice with critical studies, to help you find your voice, and develop the skills and professional networks you need to forge your own career in the Australian or international film industry, as a filmmaker, producer or screenwriter.
Our graduate programs in film and television welcome students from a range of filmmaking, writing or non-film backgrounds.
Schedule: registration and refreshments from 6pm. Event commences at 6.30pm, and includes break-out sessions for individual programs, and one-on-one mingling time with staff and students.
Image still from: VCA Graduate Film 'The Land Will Eat You' (2017). Directed by Darcy Tuppen (Master of Film and Television - Narrative).
Presenters
Mr Ben Michael

Lecturer in Film & TV (Screenwriting)
Victorian College of the Arts

Ben Michael has worked as a professional screenwriter since 1993. In that time he has written, produced, edited and story edited over two thousand hours of television. Leaving full time television inhouse work in 2007 to concentrate on academia and writing more personal work. He has a feature film, Is This The Real World, which he coproduced, cowrote the story, script edited and did some music scoring for, due for cinema release in 2016, is currently cowriting the follow up with P.O.V productions, is still asked to consult on and develop TV shows, has a web series in development with production company Astral Pictures and works as a script consultant with a small number of specially chosen writers, including Insite award winner Harry Altetras. He is currently principle lecturer and course coordinator of the Master of Screenwriting at the V.C.A. His research is mainly focused on new and alternate story and screenplay development. In particular, themeled story development, methods of tapping into the unconscious mind for screenplay ideas, working with psychologists to create more authentic characters and studying indigenous cultures story structures in the hope of finding ways to go beyond the traditional Hollywood method. He is a regular guest on Nicole Chvastek's Drivetime radio program on ABC. He also runs the informal film club Magic Hour once a month that screen nonmainstream cinema from around the world contact Ben for information on next screening.

Ms Sandra Sciberras

Head of VCA Film and Television, Lecturer in Film & TV (Narrative)
Victorian College of the Arts

Sandra lectures in Film and Television at the Victorian College of the Arts. Since writing and directing the feature film 'The Caterpillar Wish' in 2006, Sandra has balanced her teaching work with writing a number of other Screenplays, for herself as well as for other directors and producers. In 2006 'The Caterpillar Wish' was nominated by The Film Critics Circle of Australia for Best Original Screenplay, Best Actress and Best Supporting Actress. It was nominated in the IF Awards for Best Sound and won Best Art Direction. It also won an AFI Award for Best Supporting Actress.

Mrs Donna Hensler

Lecturer in Film & TV (Producing)
Victorian College of the Arts

Donna Hensler is a film producer and the Screen Production Coordinator at the Victorian College of the Arts, School of Film and Television. Donna is currently undertaking a Master of Fine Arts (Research) investigating the thesis: VCATube: Investigating best practice setup and implementation for an online broadcast channel featuring the VCA School of Film and Television's audiovisual holdings, dating back to 1966. Recently Donna produced the short film, The End of the Earth, for director Adrian Holmes which will soon begin its festival circuit and is coproducer on the feature film, 'Joe Cinque's Consolation' based on the Helen Garner novel of the same name.

Mr Stephen Luby,

Lecturer in Film & TV (Producing)

Mr Steve Thomas

Lecturer in Film & TV (Documentary)
Victorian College of the Arts

Steve Thomas lectures in documentary filmmaking in the VCA's School of Film and Television and is an awardwinning independent filmmaker. His most recent documentary feature, Freedom Stories (2015), is the third in a trilogy of films on the subject of asylum seekers. It premiered at the Sydney International Film Festival and was a finalist in the Documentary Australia Foundation Award for Australian Documentary. His previous feature, Hope (2008), won the ATOM Award for Best Social/Political Documentary. It was also a finalist in the Australian Human Rights Awards and Australian Directors Guild Awards. Steve has a particular interest in documentary ethics. In 2010 he completed his Master of Film & Television by Research – thesis entitled 'Hope – Towards an ethical framework of collaborative practice in documentary filmmaking'. He has recently completed a practiceled PhD entitled 'Reflexivity, collaboration and ethical documentary filmmaking: a practice based approach'. The creative component of the latter is Freedom Stories , which collaboratively explores the stories of former 'boat people' who arrived in detention circa 2001 and are now Australian citizens.