An interview with Yandell Walton, resident artist in the VCA's PHASMID Studio, Berlin
Melbourne artist Yandell Walton's work interacts with its environment in complex ways. So what effect will being in Berlin have on her practice?
By Paul Dalgarno
I skid my heavy rental bike through the gravel outside the PHASMID Studios, a many-windowed Lego brick on the Lichtenberg-Marzahn border in what was formerly East Berlin.
I'm late, got lost but––
"Hello."
The woman leaning out of the second-floor window – blue-green hair, a riotously-coloured top – sparks like flint against the cement surrounds.
"You must be Paul," she shouts.
"You must be Yandell Walton."
She disappears, reappears, leads me up the stairs.
The VCA Studio was established for alumni and staff in 2016 by Professors Jon Cattapan and Su Baker. It's one of six studios in the complex, which was set up, and is run, by Australian gallerist Paul Greenaway and partners and is offered primarily for international residencies.
It's nice inside – a bed here, a sink there, crisp white walls, enough room in the main studio area to do five or six continuous cartwheels, enough natural light to illuminate … Wait, is that a stove-top espresso maker?
"Coffee?" says Walton.
"Yes," I say. "Yes, please."
Walton is a Melbourne-based artist whose work encompasses projection, installation, and interactive digital media – which, looking around, is obvious enough. I sit, admire a spookily-rendered 3D-printed head on the table, look at the prints, photographs and sketches pinned to the wall.
Most are static. The only one that's moving – a fly-through video projection – is rubbish.
"This is scanned recycling waste from other artists in the building," says Walton. "I used a mobile scanner to capture it and Cinema 4D to animate the work."
Like much of the work in the studio, it's in progress – or maybe, serendipitously, not. "I'm interested in the imperfections," says Walton, sitting with the coffees, bathed in light. "I'll do a test projection tonight, five stories high, in the industrial space across from the studio. I've also tested it here, on the ceiling of the studio, where it became very immersive."
Site-responsiveness and sensitivity have become mainstays of Walton's work.
"Sometimes I see a site that I'm excited by and develop works for that site," she says. "Other times it's about finding somewhere that fits my idea."
"My objective is to reveal another state, a space between what we perceive as real, and what we experience within," she's said in the past.
In recent years, Walton's public art commissions have included Departed in Wagga Wagga (2016), Absent Presence in Townsville (2014) and Transition in Melbourne (2014). Her projection work has shown at White Night in Melbourne, PUBLIC Festival Perth, Melbourne Festival, VIVID Festival Sydney, and Dark MOFO, among many others.
In 2015, her work Human Effect won the Best of Show Award at Digital Graffiti at Ayls Beach – kickstarting fruitful relationships with number of galleries and festivals in the US, and an invitation to undertake a residency to develop a new site-responsive work for Digital Graffiti.
In that same year, she completed a Master of Fine Arts at the Victorian College of the Arts – during which she won the $10,000 Marvel Windsor Art Award for her work Presence. Given she'd already gained an MFA from RMIT in 2005, and has been showing internationally ever since, I wonder why she returned to study.
"I'm very much a visual artist and not necessarily that in-depth theoretically," she says. "Unlike the course-work degree at RMIT, the VCA's was a masters by research, which allowed for a more in-depth research project and the opportunity to explore my practice in a different, more focussed way.
"It gave me the opportunity to delve deep into underlying concepts – particularly mortality – in the context of projection.
She first worked and exhibited in Berlin on an Australia Council grant more than a decade ago and wanted to come back as it had been such an inspiring time.
The three-month VCA PHASMID Studio residency has given her space to work on several concurrent projects and ideas, including the "degradation effects of mobile scanning technology".
"That's my main focus," she says. "It's really easy for me to do project-to-project work, but just experimenting and working with technology that's new to me – that can be very frustrating. It requires a lot of patience and contemplation I just don't have time for in normal life."
"There have been lots of fails, for sure. But also fails that can then present themselves as something different."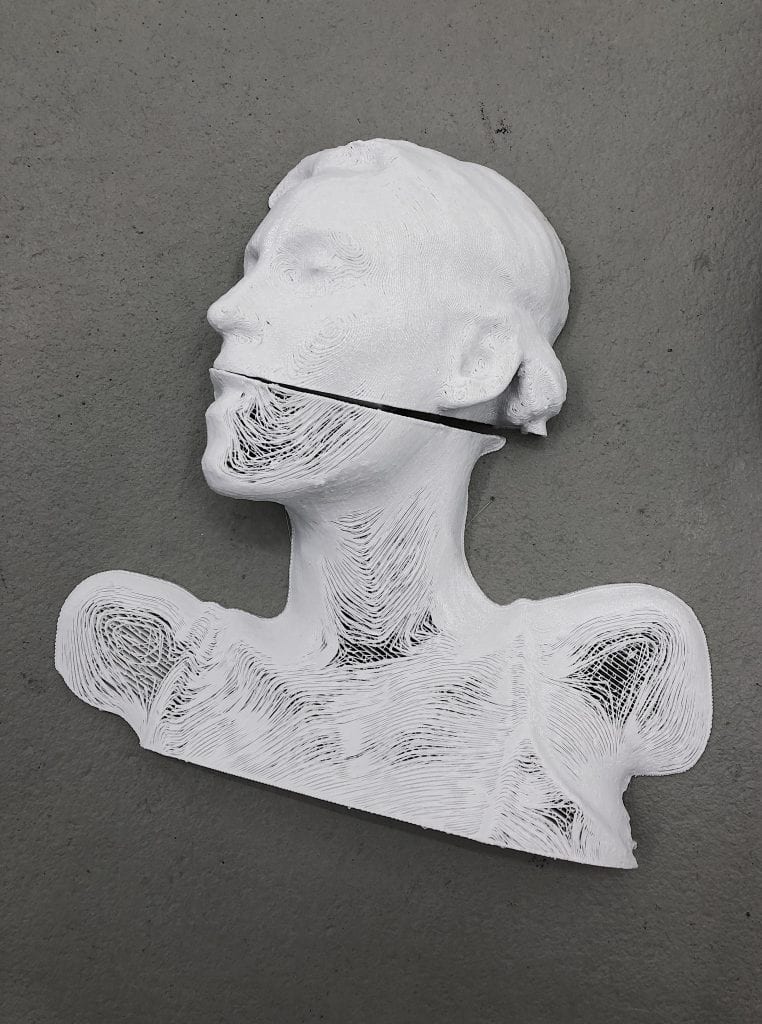 "The lens has always been part of my process," she says. "When I went to RMIT, they really pushed me into steering away from traditional printmaking and focusing on photo media. That led to me buying my first video camera and doing more video installations with multiple screens."
"Then I started experimenting with projection and was drawn to the ways that architecture became part of the artwork."
Her involvement with Melbourne's annual Gertrude Street Projection Festival dates back to its earliest days. She was Feature Artist in 2009, the second year of the Festival, and has kept her hand in since – as a participating artist, mentor, co-curator and, more recently, board member.
When it started, Gertrude was Australia's first and only projection festival, but that has changed – not least with blockbuster events such as Melbourne's White Night and Vivid Sydney. "We're currently looking at ways to shake things up," she says, "so that we can continue to produce something really exciting and new."
"We" crops up regularly in conversation with Walton. Her collaborative approach has seen her running masterclasses on behalf of the Gertrude Projection Festival, among others. In the past, she has created works with young people and community groups, and she continues to develop new skills for future projects.
Being at PHASMID has "definitely given me a solid understanding of the limitations and possibilities of 3D printing," she says. "I'm really working with the technology in a non-commercial way. I've also had the time to undertake many tutorials in 3D animation to develop new works using simple techniques."
The themes most often cited in reviews of Walton's work are impermanence, mortality and the otherworldly. For Departed, commissioned by the City of Wagga Wagga, members of the local community were invited to have a conversation about what they thought death "looked like". She then 3D-scanned the participants and created her work around their descriptions of the afterlife.
In Human Effect – which was two years in the making and has since been redeveloped for eight different sites in Australia and the US – the moving flora and fauna projected onto the laneway wall suggested fecundity but would shrivel and die when approached by anyone, only to regenerate when the "human effect" was removed.
Were those themes there from the get-go in her work? Did they develop over time?
"When I was a teenager, I had a very close person die," she says. "That was a major turning point within my life and my struggles. A lot of my work in that period was about my emotional responses to dealing with death and trying to process what it could be."
And now? She downs her coffee – I finished mine ages ago.
"That's shifted to even broader ideas of impermanence ­– our shifting environment, and the fragility of our existence. Our impact on the environment concerns me greatly and, as an artist, I want to bring those concerns to a large public audience in the hope of inspiring change."
"This is all recyclable," she says, pointing at the rubbish sliding down the wall. "In Germany, you have to actually seperate these objects from other recyclables such as glass. But even with those types of diligent systems in place, I've noticed more plastic packaging in the supermarkets, as is the case with pre-sliced cheese, to give just one example. Everyone I know is aware of those issues but still we're consuming so much."
Walton's work Matter, which saw an old penitentiary transformed by site-responsive installations for the exhibition The Return, was shown in June as part of Dark Mofo, meaning she had to oversee logistics from Berlin. "It's such a great festival," she says, "and I'm proud to have been involved."
On returning to Melbourne, she'll continue her development with 3D scanning, printing and animation, working towards a major solo exhibition at The Substation for the ART+CLIMATE=CHANGE festival in 2019, creating a series of site-specific immersive installations.
Other projects include a major public art commission and community development project in Nillumbi titled Digital Agora. Funded by a Creative Suburbs grant through Creative Victoria, it will involve youth programs, masterclasses and the development of a new public artwork over the next 18 months.
"It's going to be a big year," she says. "Which is why it's so great to have this experimental time in Berlin to develop ideas."