Meet the staff: Faculty of Fine Arts and Music
Dinosaur spirit animals, lurking rulers and miniature chairs – yes, we're an eclectic bunch …
By Kate Mulqueen
Working in marketing and recruitment for the Faculty of Fine Arts and Music, so much of the positive feedback I hear from current and former students about their experience at the Faculty is about our academic staff who – for the most part – have their own ongoing art practice in addition to their teaching work.
Following on from last year's gorgeous Meet VCA Art shoot for the Art150 anniversary, we wanted to showcase our staff more broadly across the Faculty, and again enlisted top photographer Giulia McGauran (VCA Art alumna, 2013) to lead the project.
The brief was fairly simple. We asked Faculty staff to wear a strong colour, and to bring a prop: something that meant something to them, in their careers, in their disciplines, their lives. Something that, for them, told a story.
As you can see from the selected shots featured here, this was interpreted very differently by each staff member. Many Film and Television and Production staff asked if black counted as a strong colour. Others, such as VCA Art Graduate Coursework Coordinator Dr Kate Just, didn't even ask.
Our Theatre staff – appropriately enough – provided drama and comedy in spades. My favourite from the entire shoot is a portrait of Movement Lecturer – and Melbourne Fringe Living Legend – Rinske Ginsberg. See the banner image!
Rinske told us firmly she only had 30 minutes to spare, before getting right into the shoot. She went off to gather all her foam rollers and, um, spiky balls to create a set for a blue futuristic wonderland in which she is the giant, lurking ruler, waiting to pounce on any acting student who dares not to wear all black to her classes.
As for props, Anna Cordingley, Lecturer in Production and award-winning set, costume and exhibition designer, brought in a beautiful miniature wooden chair that was left to the VCA Production team by the late Trina Parker, Anna's mentor and former teacher at the VCA.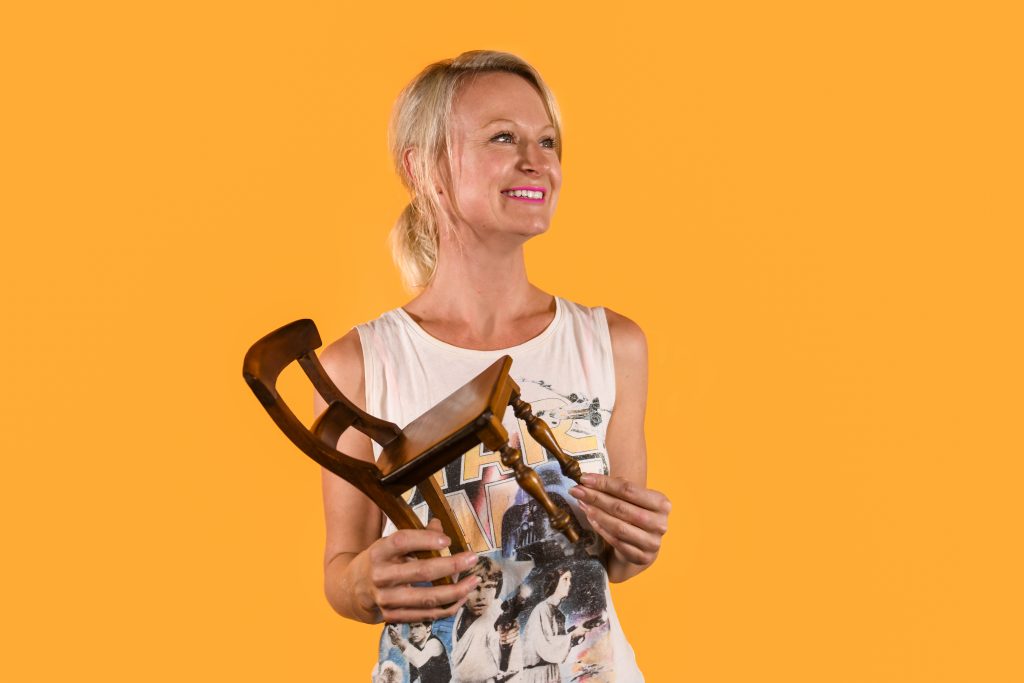 .
Associate Professor Matt Delbridge, Head of VCA Theatre, told me that he'd brought in the toy Triceratops "because it's my spirit animal".
Over the next few months, we'll be publishing and promoting more of these staff profile photos, so you can get to know a bit more about the talented (and often hilarious) teaching staff we have here at the Faculty.