Re-membrance, Re-volt, Re-emergence: a Social Practice lecture series at the VCA
Re-membrance, Re-volt, Re-emergence is a global lecture series convened by Tania Cañas for the Bachelor of Fine Arts (Honours) Social Practice and Community Engagement program in 2020. The inaugural event saw international, interdisciplinary artists and thinkers share creative, community and pedagogical practices as new propositions for collective political memory. In this article we look back at the artistic minds behind the four keynote presentations; Tundé Adefioye, Regina José Galindo, Kayhan Irani and Dr Joachim Ben Yakoub.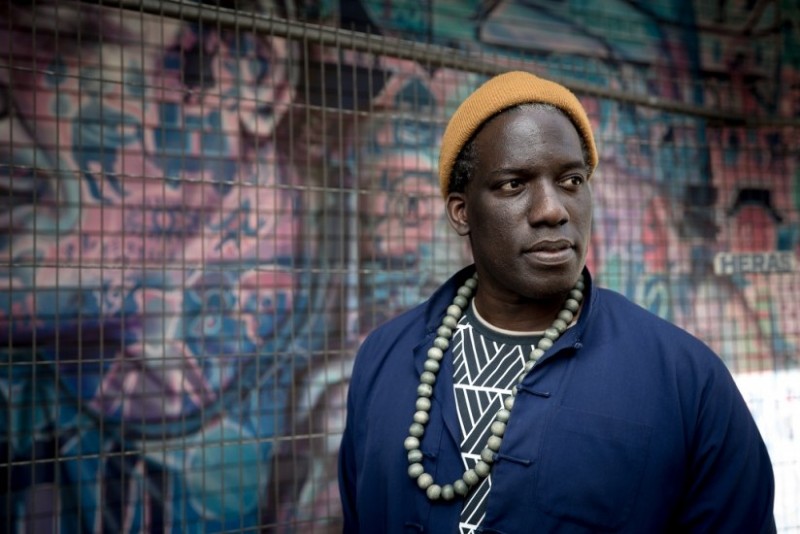 Tundé Adefioye –'Archiving the waywards and their archives – A Black dramaturgical perspective'
Tundé Adefioye co-founded the youth platform Urban Woorden in Leuven, Belgium, which grew quickly and in 2013 was awarded with the Culture Prize for Cultural Education by the Flemish Government. In 2016, he began as city dramaturg at Koninklijke Vlaamse Schouwburg (KVS), Brussels' Flemish city theatre, as part of the artistic team led by Michael De Cock.

City dramaturgy, a concept conceived by fellow city dramaturg Gerardo Salinas, aims to use the city as a conceptual canvas to create a discourse with different aspects of the city of Brussels and beyond. Additionally, Adefioye has done dramaturgy for plays and projects including Malcolm X and (Not) My Paradise.
Since 2017, Adefioye has been delivering lectures and speeches, including keynotes at the 2019 ETC International Theatre Conference in Germany and at Wales Arts International's conference. From 2017 to 2019 he helped write, co-coordinate and give dramaturgy advice for the innovative EU Creative Europe project MindUrStep.
In 2019, he made his directorial debut with Contact Theatre Manchester, with the piece Old Tools > New Masters ≠ New Futures.
Departing from Saidiya Hartman's groundbreaking speculative fiction work, Wayward Lives, Beautiful Experiments, Adefioye's keynote lecture offers ways that performance and theatrical approaches can include the realities of those that have been considered 'wayward' in our society.
Regina José Galindo – 'The political, the poetic and the transgressive'
Regina José Galindo is a visual artist and poet whose main medium is performance. Galindo lives and works in Guatemala, using its own context as a starting point to explore and accuse the ethical implication of social violence and injustices related to gender and racial discrimination, as well as human rights abuses arising from the endemic inequalities in power relations of contemporary societies.
Galindo received the Golden Lion for Best Young Artist in the 51st Biennial of Venice (2005) for her works ¿Quién puede borrar las huellas? and Himenoplastia, two crucial pieces of her oeuvre critiquing Guatemalan violence that comes from misconceptions of morality as a form of gender violence, while she demands the restitution of the memory and humanity of the victims. In 2011 she was awarded with the Prince Claus Award from the Netherlands for her ability to transform injustice and outrage into powerful public acts that demand a response.
She has also participated in 49th, 53rd and 54th Venice Biennials; Documenta 14 in Athens and Kassel; the 9th International Biennial of Cuenca, the 29th Biennial of Graphic Arts of Ljubljana, the 2016 Shanghai Biennial, the 2010 Biennial of Pontevedra, the 17th Biennial of Sydney, the 2nd Biennial of Moscow, the First Triennial of Auckland, the Venice-Istanbul Exhibition, the 1st Biennial of Art and Architecture of the Canary Islands, the 4th Biennial of Valencia, the 3rd Biennial of Albania, the 2nd Biennial of Prague and the 3rd Biennial of Lima.
In her keynote presentation, Galindo takes the audience on a journey through completed works in Guatemala and diverse contexts of the world, focusing on the political, the poetic and the transgressive.
Kayhan Irani – 'Tending our deepest roots of possibility: Building community competency through performance'
Kayhan Irani is an Emmy-award winning writer, performer and Theatre of the Oppressed trainer. She creates art to build community, offer spaces for healing and engage audiences in social justice issues. Kayhan was one of 10 US artists named by President Obama's White House as a 2016 White House Champion of Change for her storytelling work.



Her previous one-woman show, We've Come Undone, toured nationally and internationally telling stories of Arab, South Asian and Muslim-American women in the wake of 9/11. She was a Fulbright-Nehru Senior Researcher (2012–2013) studying Parsi embroidery for her play, Tree of Seeds. Kayhan has trained hundreds of groups in Theatre of the Oppressed and participatory storytelling tools over the years, both nationally and overseas.
There is a Portal is Kayhan Irani's latest multimedia performance and social justice education project which reimagines belonging, place, and human connection. Using intimate storytelling, lush visuals and participatory theatre, Irani recreates and embodies her journey of displacement and the search for home in four parts: Loss, Hatred, Regret, and Closeness. Sharing memories of the Iranian revolution and ancient family tales of migration she offers a glimpse into personal and political cycles of displacement, violence, and finding home.
For Re-membrance, Re-volt, Re-emergence, members of There is a Portal's community pedagogy team will engage in conversation about how they have embodied and created a network of belonging while imagining such a space and opportunity for others.
Dr Joachim Ben Yakoub –'Bursting life! A relational manifestation'
Dr Joachim Ben Yakoub is affiliated to the Middle East and North Africa Research Group (MENARG) and Studies in Performing Arts and Media (S:PAM) research group of the University of Ghent, in Belgium where he is conducting research on the aesthetics of revolt in Tunisia and Belgium. He is a lecturer at the Sint-Lucas School of Arts in Antwerp, where he is also promoter of the collective action research, The Archives of the Tout-Monde.

Yakoub is part of the editorial board of FORUM+ and Documenta Journal. His work has been published in numerous journals and books, and in 2021 his PhD, Revolting Senses: The contrapuntal aesthetics of revolt in Tunisia, will be published in French as a book by Editions Al Dante (Presses Du Reel).
The lecture discusses the video in the making, entitled Bursting Life. Yakoub unpacks the creative intervention PeoPL (Laura Uwizeye Nsengiyumva). In PeoPL, Nsengiyumva melts down a life-sized ice replica of Leopold's equestrian statue at Trone Square, the main colonial statue still standing in the center of Brussels.
PeoPL is a sensitive ode to the civil disobedience, necessary to keep the space to discuss Belgium's colonial past in Congo, Rwanda and Burundi open, to ruin the still very present coloniality of power.
Voicing his critical reading and manifesting his appraisal, PeoPL will be visually presented as an ongoing and continuous exercise in what Trinh T. Minh-ha called 'speaking nearby': "a speaking that does not objectify, does not point to an object as if it is distant from the speaking subject or absent from the speaking place". It is "a speaking that reflects on itself and can come very close to a subject without, however, seizing or claiming it".
Applications for the Bachelor of Fine Arts (Honours) Social Practice and Community Engagement course close on 31 January 2021.