Tropfest 2018 winners Greta Nash and Gillian Crosby in interview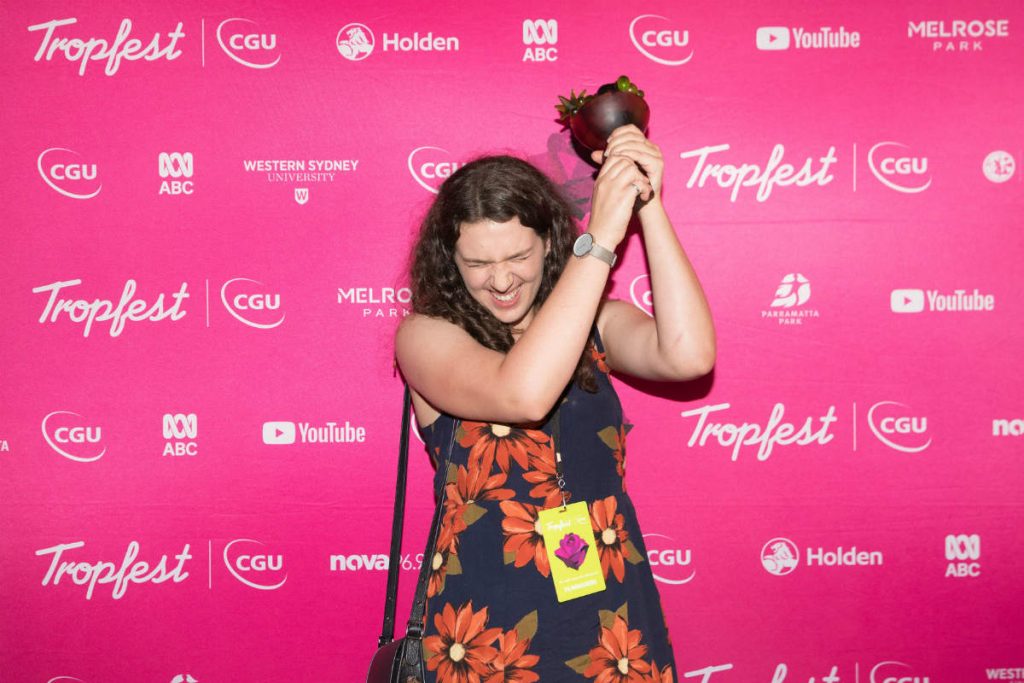 Nash's film Two Piece took the top prize at Tropfest 2018 this month. She and the film's producer – fellow VCA alumna Gillian Crosby – discuss their win.
By Scott McLachlan
Congratulations, both, on your big Tropfest win, Greta and Gillian. What does that mean for you as filmmakers?
Greta Nash: Thank you! It's been wild – of all the changes, I think the biggest is that I can finally envision a future for myself in film and TV, which is what I've been working towards for a while.
Gillian Crosby: Absolutely. Having such a huge audience watch a film you made for the first time really opens your eyes to all the possibilities the future holds!
You won a pretty impressive haul of prizes, Greta, including a new car and a networking trip to Los Angeles. What are you most looking forward to?
GN: I'm pretty excited for the trip to Los Angeles! I've only been to LA as a tourist so it will be really interesting to visit and see a completely different side. I'm also pretty keen to drive this new car around, which is hilarious because I don't have my license yet. But I will soon!
GC: Don't worry … I'll look after the car for you.
As a coming-of-age story about a young girl's anxiety-ridden bikini-shopping trip with her mother, Two Piece will hit close to home for many people. How important is it to tell women's stories on film?
GN: It's important for all people to be able to see themselves reflected on screen. Feeling seen, understood, and validated by the movies and TV we watch provides an inexplicable sense of relief. For women, it's not necessarily something we're used to, and for that reason it holds a lot of power.
GC: I find this question really hard to answer – I think because I wish we lived in a world where the representation of men and women in film was equal, therefore this question wouldn't even get asked. But we don't, so all I can say is that the number of women of all ages who have approached us to tell us that they saw themselves on-screen when watching our film – either as the mother, daughter, or even both – meant so so much to us.
What were your biggest challenges making the film?
GN: The film was written very quickly, with only two drafts – usually that's my biggest challenge, the writing stage, but fortunately the time constraints forced me to just keep things simple and get on with it without over-thinking. Instead, it was tricky to keep the budget down and find the right swimwear store – more practical things.
GC: The tight turnaround definitely put the pressure on. We got another fab producer on board to help us out – Gabrielle Mcleod, another VCA grad. For me, the biggest challenge was the nervous wait after submitting to Tropfest.
You both studied Film and Television at the VCA. How did that prepare you for making Two Piece?
GN: Studying Film and Television taught me the complete process of making films – before VCA I had no idea what I was doing. But the best way it prepared us was by forcing us to work alongside other students, who have since become our most important collaborators post-graduation. This film was shot by our classmate Max Walter, for example.
GC: The connections we made at VCA were invaluable. Two Piece had a total of nine VCA students past and present working on it: myself, Greta, Gabby and Max, of course, but also our production designer Joe Noonan, composer Hamish Patrick, script supervisor Shannon Anderson and gaffers Tim Wilson and Jesse Richards.
Your lead actress Freya van Dyke-Goodman also won the award for Best Actress. How did you find your cast and crew?
GN: We had a pretty typical casting process, I think, where we sent a casting call out to a few youth agencies in Melbourne. We were really lucky to find Freya and Liam Smith (who plays her brother) this way, considering we only had one day of auditions and saw something like 25+ kids. The crew came from people we went to uni with, and people that those people had worked with and so on.
GC: The audition day was huge! Auditioning kids is so different to auditioning adults – we were blown away by the raw talent Freya and Liam showed us. Lulu McClatchy, who played Kelly, we contacted directly and were so thrilled when she agreed to come on board!
What's next for you both?
GN: I've got three ideas I'm currently developing with the aim of making another short and then turning it into a feature down the track. I'm also hoping to find a Director's Attachment.
GC: I work full time as an Assistant Producer at a sound design studio, and have a few really exciting music video and short film projects lined up as well.
If you could give aspiring filmmakers one piece of advice, what would it be?
GN: The films you make at film school are not the be-all-and-end-all. Just take what you've learned and keep on trying.
GC: Don't let anyone tell you that you can't do it. Surround yourself with people who build you up and encourage your creativity. Also, producers: if you have the chance to be best friends with an incredibly talented director who wants you to produce her films – do it.