What is Interactive Composition at the University of Melbourne?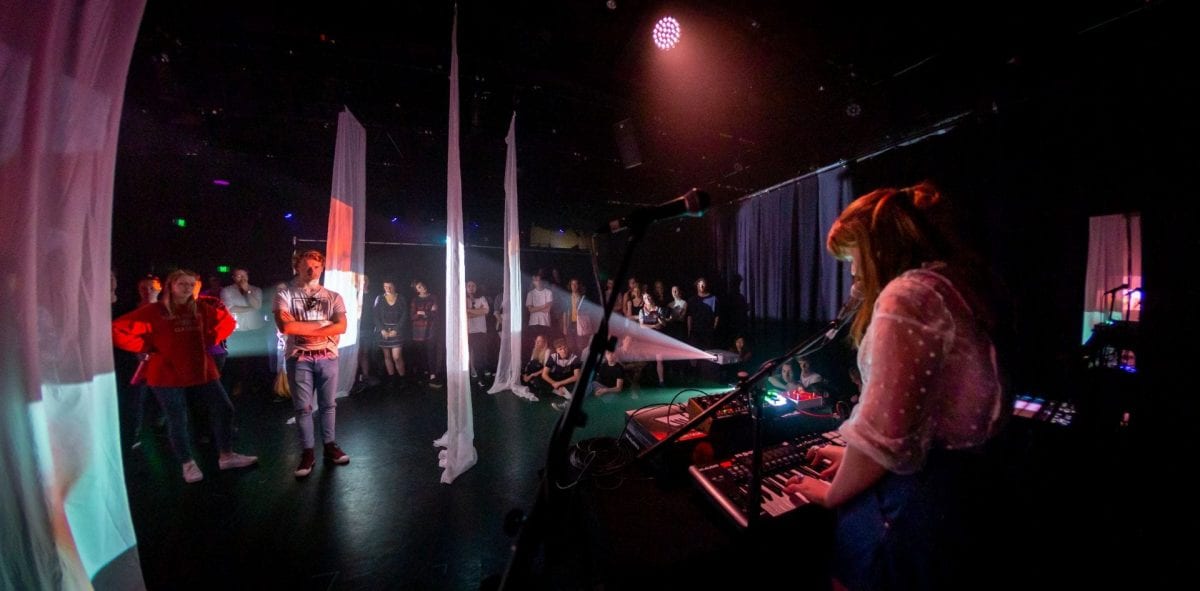 It defies easy definition, but those who have had anything to do with Interactive Composition at The Faculty of Fine Arts and Music know its value. It's a course for innovators, creators, collaborators and ground-breakers. When Interactive Composition graduates leave the University, they go into the world and make their mark.
By Jacqui Picone
Musician and composer Tim Hassall, who is in his final year at the University of Melbourne, is trying to think of the most valuable lesson he's learned while studying Interactive Composition.
"To have the strength to follow your vision," he says.
This focus on fostering students' talents and giving them scope to grow their skills in diverse, imaginative contexts, is a central tenet of this course specialisation at the Faculty of Fine Arts and Music.
"The environment at the Faculty definitely encourages collaboration between departments," says Hassall. "That involves working throughout the course with visual artists, choreographers, movement artists, actors, animators, and filmmakers, among others."
Efflorescence (2017) by Anna Durham, third-year Melbourne Conservatorium Interactive Composition student.
For Robert Downie, who graduated from Interactive Composition in 2017, the opportunity to fully immerse himself in his chosen field was a clear highlight. "All of a sudden my entire life was consumed with nothing but conversations and classes about music," he says. "The people in my class were interested in similar things and they were open to deep intellectual analysis of the music we were all creating."
According to the course outline:
Interactive Composition focuses on commercially driven cross-art modes of composition, and may include writing music for events, film, television, animation, theatre, music theatre, dance, pop songs, advertising, videogaming, online, installation art and sound design.
"The opportunities for collaboration are rife," says Downie.
Head of Interactive Composition Professor Mark Pollard describes the course as "style-inclusive, with students coming from many sound backgrounds and a range of cross-discipline, interactive styles. It builds individuality and collaborative experience."
It does this by encouraging composers to create new artistic works in group environments while embracing the theoretical and practical study of sound and sound design and the harmonic, melodic, rhythmic and formal structures and processes of contemporary music. Creative problem-solving is key, and forms part of the audition process for entry to the course.
Pollard says: "We have a large pool of staff members who are industry-based, often working daily in commercial music, EDM [electronic dance music] and song production, film and games scoring, live interactive events and session arranging studio contexts."
The course also gives students the opportunity to travel overseas to develop site-specific work and learn from different cultures. In recent years this has meant immersive study trips to Edinburgh, the Cook Islands and Yogyakarta. In 2019, the destination is Beijing.
Interactive Composition cohort numbers are kept deliberately small – typically around 20 students – to accommodate the high value placed on hands-on teaching and mentoring.
"You get to know your peers and teachers very well," Downie says. "You get one-on-one classes with a mentor every week for the full three years of the degree."
Downie has been busy since graduating last year. He plays in five bands, works as a producer, writes music for theatre, film and dance works. He also scores short films, and won Best Music at the 2018 Melbourne Fringe Festival for his show Polito X Visual Display, performed with other Faculty of Fine Arts and Music graduates. Working on projects with students from other disciplines in the Faculty is part of the course, and leads to a lifelong network.
As a case in point, Hassall, when I interview him, is working on compositions for two animations, a dance film and an immersive piece, all while preparations are happening for his final Folio Liveperformance for the year.
Elle Graham, known better by her stage name Woodes, graduated from Interactive Composition in 2014, signed to Universal in 2017 and is now a festival mainstay; Eilish Gilligan, who graduated in 2015 with Honours, is on high rotation on Triple J and was a 2018 Triple J Unearthed Listen Outwinner.
Interactive Composition students seem to have their fingers in every industry pie possible, always performing, always creating.
Maybe that's because it's neither simply a traditional production and mixing course of the sort offered at other institutions, nor a theory-heavy, classical music course. As Hassal explains, before returning to preparation for his final year performance, "in the same day, we might explore the harmonic implications of a melodic line in a classic Björk song, conduct a piece in progress, and be shown the possibilities of the latest-wave table synth in Ableton Live."
Pollard says the program encourages freedom of expression, builds collaborative experiences and develops problem-solving abilities in creative contexts.
"Some graduates have gone directly into industry, some work as multimedia artists collaborating with game designers," he says. "Some are EDM artists collaborating with commercial producers and major artists. Others lead their own bands performing at festivals, some tour as orchestral musicians."
"Don't look before you leap," he says, as advice for those wishing to study Interactive Composition. "But be prepared to swim."
Enjoy some music from Interactive Composition students past and present in this Spotify playlist: