Theatrum Botanicum: the choreography of ecology
by Sarah Hall
Gregory Lorenzutti has united his life's passions for dance and ecology in Theatrum Botanicum, which opens this week at the Victorian College of the Arts, with Bachelor of Fine Arts Dance and Production students. A Brazilian-born dancer, choreographer, photographer and urban farmer, Lorenzutti comes from a farming and conservation lineage. His father and grandfather were taxidermists of Brazilian fauna.
"They were responsible for preserving species for the future, for research," he says.
While his predecessors preserved bodies in stasis, Lorenzutti has applied his appreciation for ecology to the art of motion. He describes his conceptualisation of Theatrum Botanicum as a kind of ecological choreography; or "a dance for ecological planetary bodies".
From regional Brazil, Lorenzutti had moved to Rio de Janeiro to study theatre when he found out about a scholarship to study dance. He applied and was accepted. He spent the best part of the next two decades travelling the world as a professional dancer, before landing in Australia in 2012, and establishing roots in the dance community here.
Having always maintained a gardening practice, growing plants is the way he has come to connect with place. He feels a deep sense of pride and belonging associated with memories of his grandparents growing cassava roots to sell at the farmer's market.
"It's a tricky moment for you to find your grounding in a different culture," he says, of moving to Australia.
"And I owe —deeply— my connection to this country, to its plants."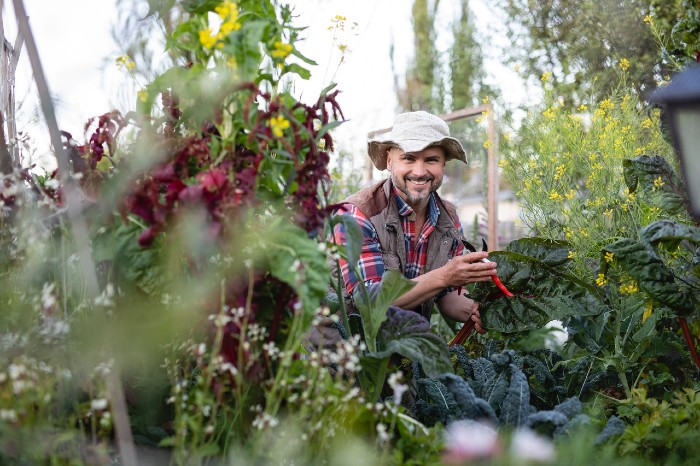 Reconceptualising dance with the help of plants
Like many of his peers, Lorenzutti lost his job in the dance industry at the start of the pandemic.
He began to work for the Ecological Justice Hub at Fawkner Food Bowls, an urban farm in Melbourne, providing pandemic food relief to the Moreland City Council catchment. Dedicating so much time to farming gave him an opportunity to reflect on, and even reconceptualise, his dance practice.
It was during this time, with encouragement from Head of VCA Dance Carol Brown, that the seeds of Theatrum Botanicum were sown.
"While I was growing carrots and planting potatoes and harvesting lettuces, I was thinking about my relationship with movement, and with food," he says.
"And I could not stop thinking about all the movement that I was witnessing happening on the ground, by microscopic creatures that actually nurture plants…And how those plants are responding to that."
He became immersed in his relationship with the plants he was growing, and their own movement practices.
"[Plants] have their own agency as well. And I start thinking about that, and about my agency as a mover, and then the plant's needs – how they also want to live, survive, and thrive."
This project aims to draw attention to plant movement and migration where, Lorenzutti says, the tiniest of gestures are meaningful and important. He wants Theatrum Botanicum to help us better understand our role within the ecosystem and to support us to re-engage with soil.
"Somehow along the way, we've lost a little bit of that connection," he says.
The project itself is informed by ecological principles, and he hopes it has an ongoing ecological legacy. The first Theatrum Botanicum activity was in February: a seed sowing workshop.
"We planted seeds here at the VCA in punnets, and the students had to take those seedlings home and look after them," he says.
When the seedlings developed, the participants brought them back to the Southbank campus and planted them in garden beds.
The students have had the opportunity to learn from a number of guest teachers, including plant scientist and Barkandji scholar Zena Compston whose work became seminal to the project.
Compston took the students through a guided tour of an exhibition she curated Emu Sky Beginnings, in the Old Quad in Parkville, in partnership with Science Gallery Melbourne and the Herbarium.
"She shared [so much] information and knowledge that she has gathered from the different countries within Australia. And that was a shifting point for us, and for the ethos of this work, and our relationship to plants that have been here for so long, which have their own wishes and roles within the Australian landscape," says Lorenzutti.
An antidote to a draining industry
The emphasis of Theatrum Botanicum is on transforming the performers' relationship with their environment. While the dance industry is defined by long hours of intense physical training, which can be brutal and exhausting, this project may act as a balm. It's also an opportunity to reconceptualise dance as an ecological exercise.
"We invite our audience to come to be with us, with plants, and witness plants, and [witness] us, inhabiting the same space together, and giving each other the attention that we all need, and the care."
"And through that we may find some healing, for things that —including dance— have been caught up in a system that can be traumatic."
Theatrum Botanicum's synopsis says that in the time of the Anthropocene, plants offer us a revolution: "a world of collaboration, of healthy partnerships with other life forms, and a humbling ability to coexist and thrive within a diverse ecosystem."
Lorenzutti extends this sentiment, suggesting we not only have an opportunity, but a duty to collaborate with more-than-human life. He says that while living in Australia we have a duty to serve Country, and that part of that is recognising the sovereignty of First Nations' peoples.
"And if you don't have space for that, that's something wrong with the system."
The veggie gardens will remain on campus after the project ends, and Theatrum Botanicum will have a legacy in that way. But as we accelerate towards ever-more terrifying ecological situations, our actions as movers and actors within our environment can also be reconstructed. Transforming artistic practice to become more ecologically-motivated would ideally be a part of that.
Ecology is a dance between synchronised partners who have evolved their steps over millennia.
Already, says Lorenzutti, "the ecosystem we're a part of deeply affects how we move."
But as this project teaches us, the more we tune in to the environment, the better we will be able to participate in the dance.