The William Tell Overture – performed by the University of Melbourne Symphony Orchestra, and VCA dancers, at home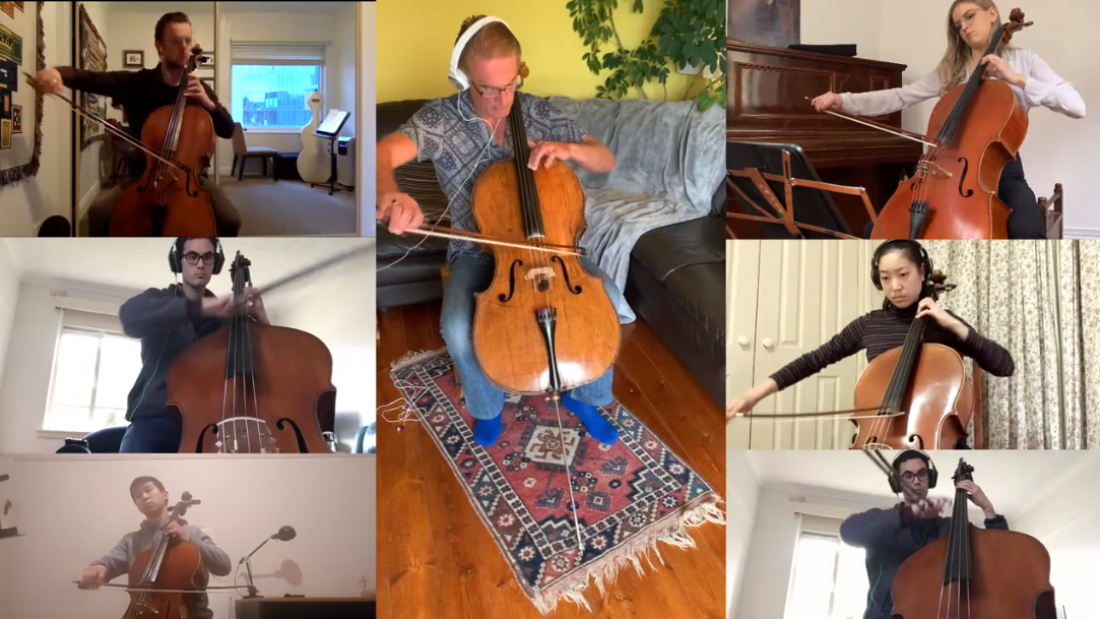 Apples were the order of the day for University of Melbourne Symphony Orchestra, and a select number of Bachelor of Fine Arts (Dance) students. After the great success of the University of Melbourne Conservatorium student rendition of Bolero, recorded remotely with 104 talented orchestral musicians, Associate Professor in Music and Head of Orchestral Studies Richard Davis decided to raise the bar with a new, ambitious recording-in-isolation project, the William Tell Overture.
By Mireille Stahle
The University of Melbourne Symphony Orchestra, comprising 88 ambitious orchestral musicians, is proud to present an online first recording of the William Tell Overture, with very special guest Peter Dixon, directed by Richard Davis.
"I was already planning on doing the William Tell Galop," says Davis, "when Principal Cellist of the BBC Philharmonic Peter Dixon brought up our recent Bolero recording.
"He said that he'd really enjoyed it and asked if he could participate in whatever our next project would be."
"With Peter's generous offer, I thought that we should try something very special and new."
The famous Galop from the Overture is known for its metronomic beat – a challenging work for students, but perfectly suited to recording in isolation with a click-track and of course, the direction of Davis' steady hands.
In the Overture's introduction, there is a beautiful cello solo, with accompanying orchestral celli, double bass and timpani. But this section requires rubato – an ebb and flow in tempo that takes its name from the Italian word "to rob".
But how to create the delicious rubato with Peter 17,000 km away?
"Playing the solo part strictly in tempo, as with a click-track, would sound mechanical and out of character," says Davis, "so I decided to ask him to record his part, pretending that he was sitting in his orchestra."
"He sent me that recording, and I got all of our players together, on Zoom, and we went through his interpretation.
"Listening and watching Peter, rather than using a click track, the students played along to his part, in their own homes, recording as they went. Working in this manner gave the students a realistic ensemble experience – having to watch their leader and listen to him whilst playing – more akin to how it would feel, playing in a physical orchestra.
"Haig Burnell, my wonderful Tonmeister colleague then put the parts together seamlessly, creating a wonderful concert sound.
"It's worked out amazingly well. I am so proud of them all."
Another delightful difference to the latest offering is a choreographed dance version of the Galop. Carol Brown, Head of Dance at the VCA, has choreographed a dance "remix" in which students record themselves dancing to the orchestra's original music track.
Dancers from the Victorian College of the Arts Bachelor of Fine Arts (Dance) program, working from home, were encouraged to find playful ways of entertaining themselves in isolation to contribute to the video.
"Playing with apples, scaring the birds from the green and shooting imaginary foe; their dance capers recall the hijinx of the TV series The Lone Ranger whilst playing an oblique homage to William Tell's tales of marksmanship and daring," says Brown.
"For many, the work is irrevocably remembered for its exciting final three minutes, which came to serve as the theme music for The Lone Ranger TV program and subsequent movies such as A Clockwork Orange.
"I shared with the dancers some references to the ways the music has been used in popular culture, such as high-speed chases, heroes riding to victory, adventurous endeavours gone wrong, and horses galloping.
"The students came up with lots of great material, demonstrating their abundant creativity in lockdown. Seeing them dancing in their homes and local environments, the choices they made, surprised me and allowed me to get to know them better.
"This generation of dance students will have an expanded conception of where and how a dance can take place and make space, dancing beyond the studio to stage trajectory.
"Seeing them explore the boundaries of their environments through galloping, leaping and conducting the air reinforces the power of moving at this time and reinforces that there is strength in joy."